Fiilex Announces the K151 Kit Featuring the Q500 with Custom Travel Case


San Francisco, CA - June 10th , 2014 - Fiilex, a leader in LED lighting for the broadcast, film, and photo industries, announces the release of their latest lighting kit, the K151. The kit features the Q500 an impressive 750W equivalent light. It is dimmable from 100% to 5%, with smooth transitions, and has an adjustable beam angle ( 27°-50° with the included fresnel lens).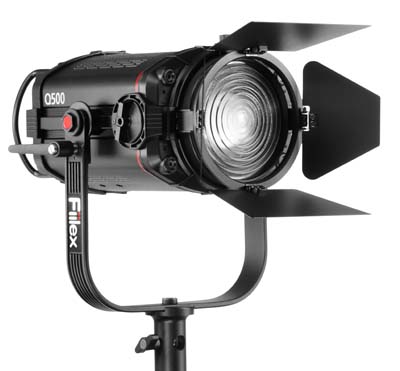 The Q500 can be tuned between 2800 - 6500K, and has a >93 CRI (3000-5600K). The light also includes Hue Control of ±.25 Magenta/Green. The light is "Flicker" free at any frame rate, and features a built in LCD display for accurate adjustments. This is Fiilex's first light with an LCD Display and built in DMX Control. It features 512 Addresses, connection via the two XLR ports (in/out) or two RJ45 Ports (in/out).
The travel case is small enough to fit in most airline overhead compartments, and weighs 33 lbs when fully loaded. The case features custom cut foam to provide excellent protection to the Q500 while in transit, and there are custom cutouts for additional accessories. The Kit includes the Q500, dome diffuser, powercon cable, cord tie, barn doors, fresnel lens and travel case.

"We want all of our lights to be easy to work with, and that includes being easy to transport," says Brent Siebenaler Brand Manager for Fiilex, "The K151 Lighting Kit is the perfect solution for people who want to take the Q500 outside of the studio. The light is powerful enough to be the only light you use, and with the protective case, you know your light will be protected between uses."
The Q500 utilizes Dense Matrix LED™, a patented technology, and the reason why Fiilex lights are different from other lights. Dense Matrix LED™ uses patented heat dissipation technology to pack numerous LEDs on a single array. The result of this compact placement is super–bright point–like illumination source that features high CRI (Color Rendering Index) and adjustable color temperature. This technology is unique to Fiilex and the other brands of DiCon Lighting.
Pricing and Availability
The K151 is available now from dealers throughout the US, Canada, and Europe. The US retail price is $2795.00. For a complete list of dealers and accessories please go to www.fiilex.com.
Separator
About Fiilex
Fiilex is a DiCon Lighting Brand. The Fiilex division designs and manufactures high quality LED lighting products for the Image Capture industry. Incorporating patented Dense Matrix LED technology, Fiilex produces portable and powerful specular sources that boast high Color Rendering Index (CRI) and dynamic color tuning capabilities. Since the initial announcement of the brand in January 2013, Fiilex has released 5 revolutionary LED lighting fixtures and a variety of innovative light modifiers. In a very short span, Fiilex has won major contracts in the North American broadcast market and established a wide dealer network around the world. Fiilex is one of the most sought after new lighting brands in the market.

For more information, please visit www.fiilex.com or call (510) 620-5155.

1689 Regatta Blvd,Richmond, CA 94804
(510) 620-5155 TEL
(510) 620-4102 FAX
www.Fiilex.com