PAR Reflector
P/N: FLXA037
Designed to boost the Q500's brilliant 750W output, the conical PAR Reflector fits to the front of the light and produces the feeling of an open face with great intensity. The reflector's shiny silver interior and distinctive parabolic shape concentrate the light, amplifying its intensity by 6x in order to deliver a punchy, crisp look that flatters skin and creates clean shadows. The PAR Reflector gives you easy control over the directionality of your spread, with the 6" diameter front face narrowing the beam angle from 65° down to 16° in order to provide a hard light and crisp edges that drop off sharply. A useful tool for controlling your lighting and adding deeper depth to your shot, the PAR Reflector lets you highlight facial features in close shots and throw light far into the background to accent hard-to-see details.
Separator
Features »
Increases Light Intensity by 6X
Increases Beam Distance
Decreases Beam Angle from 65° down to 16°
Specifications »
Diameter 5.9"
Height 6.1"
Lighting Effect
Creates a Hard Light/ Hard Shadow, Increases Intensity of Center Beam
Separator
Items Included »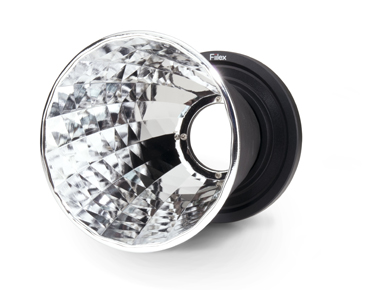 (1) PAR Reflector