Fiilex K301 Pro Travel Kit (3x-P360 Pro)
P/N: FLXK301P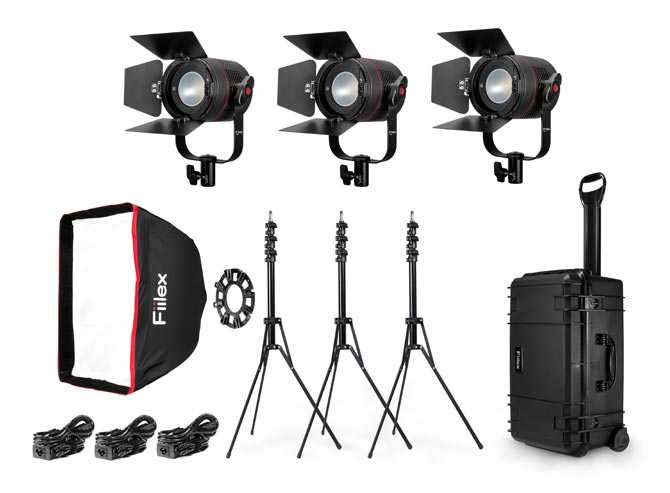 The K301 Pro kit puts an incredibly versatile three-point lighting kit into a single K-Series rolling travel case. The kit's three 400W-equivalent P360 Pro lights boast a versatile feature set, including tunable CCT (2800-5600K) and intensity (0-100%). This kit is great for users who need high-quality lights that can match unpredictable lighting conditions with minimal hassle. Included inside the kit are barndoors, light stands, and a softbox. Additional accessories can be stored in the lid.
Separator
Features »
1200 Watts of Combined Equivalent Output
Lightweight, Compact & Easy for Travel
Designed to Comply with Most Airlines Carry-On Sizes
Molded-In Padlock Holes (Fits standard size Masterlocks®)
Zippered Pouch for Storage of Accessories
Automatic Pressure Purge System
Plastic Non-Corrosive Locks
Compatible with Broadcast Batteries via an Optional Adapter
P360 Pro Features »
OLED Display for easy setup
400W Output Equivalent, only uses 90W
Dimming (0 -100%)
Tunable CCT (2800 - 6500K)
High CRI (>93)
Broadband Full Spectrum LED Source
Single Point Dense Matrix LED Light Source
Flicker Free
Lightweight, Compact and Easy for Travel
Virtually Heat Free and Cool to Touch
Compatible with Broadcast Batteries
AC/DC Voltage Options (works with batteries)
Designed in USA, Assembled in USA/Taiwan
Separator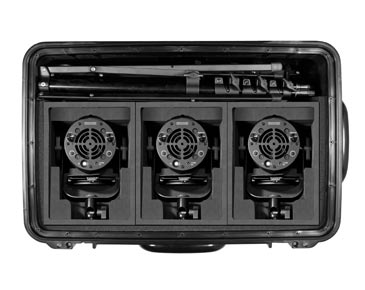 Specifications »
Case Size
23.96" x 16.00" x 10.10"
60.9cm x 40.6cm x 25.6cm
Case Weight
36.75 lbs.
Light Stand Height Closed
21" inches
Light Stand Height Extended
7' ft / 2.13 Meters
Case Warranty
Lifetime from Manufacturer - (Seahorse)
Separator
Items Included »
(3) P360 Pro Light Heads
(3) Size II Barndoors
(3) AC/DC Power Adapters
(1) Extra Small Softbox
(1) Speedring for Softbox
(3) Light Stands
(1) Rolling Travel Case
Separator