Fiilex K313 Three-Light Interview Kit (1-P360/2-P180E)
P/N: FLXK313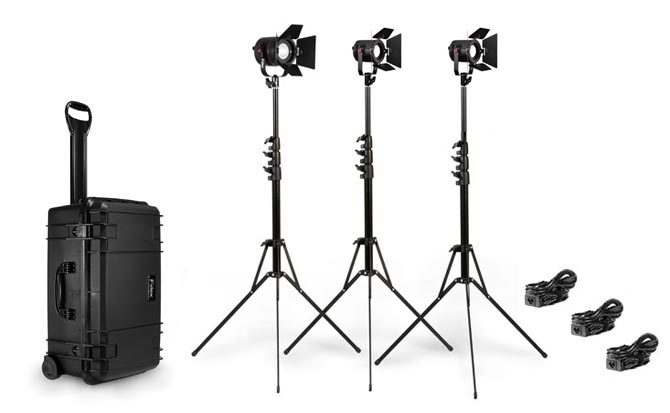 The K313 is a flexible option for getting the traditional three light interview set-up. With one P360 for a key light and two P180Es for fill and hair, get the all the flexibility of these dynamic lights in one lightweight kit. Both models feature dimmable intensity and adjustable color temperature between 3000-5600K, allowing you to match the ambient light on-location or warm up your shots for added depth and contrast. Compact and lightweight, these lights are the perfect combination of portability and durability that make traveling a breeze, even for run n' gun shoots. The K313 even includes a third empty foam insert for storing an extra light, batteries, audio equipment, magnetic accessories, etc. The kit comes complete in a rolling travel case with one color tunable P360 light head, two color tunable P180E light heads, three power adapters, barndoors, and light stands.

Separator
Features »
750W of Total Equivalent Output
170 W of Total Draw
Color Temperature Range 3000-5600K
Full Spectrum Light Quality - No Spikes
Dimming (100%-10%)
Flicker Free at any Frame Rate
Solid State Technology - No Bulbs to Replacee
Zippered Pouch for Storage of Accessories
Automatic Pressure Purge System
Plastic Non-Corrosive Locks
Travel Case Features »
Modular Design for Added Versatility
Molded-In Padlock Holes
Wheels and Telescoping Handle
Designed to Comply with Most Airline Carry-On Sizes
Separator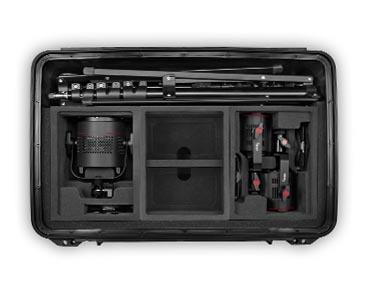 Specifications »
Case Size 23.96" x 16.00" x 10.10"
60.9cm x 40.6cm x 25.6cm
Case Weight 41 lbs.
Light Stand Length (closed) 21"
Light Stand Max Height (extended)
7 ft / 2.13 Meters
Rolling Case Warranty
Lifetime from Manufacturer (Seahorse)
Separator
Items Included »
(1) P360 Light Heads
(2) P180E Light Head
(2) Size 1 Barndoors
(1) Size 2 Barndoors
(3) 90W - AC/DC Power Adapters
(3) Light Stands
(1) Rolling Travel Case
Separator