Q500-DC
Designed to run on battery power and to withstand the elements, the Q500-DC redefines on-location work. This IP-24 rated light handles rain, heat and humidity with ease, allowing you to bring the award-winning Q500 technology into the field despite unpredictable conditions. The Q500-DC offers a brilliant 750W equivalent output, and its low 185W draw means you can travel lighter than ever by leaving your bulky generators behind. The powerful fresnel LED weighs just 11.2 lbs and gives you full dimming, color tunability between 2800-6500K, and ±.25 Magenta/ Green hue control for balanced skin tones. The Q500-DC is flicker-free at all frame rates and it has exceptionally accurate color rendition, guaranteeing natural, vibrant colors and saved time in post-production. With a built-in DMX, an LCD screen for easy setting adjustments, enhanced weather-resistance, battery compatibility, and a whole line of Q-Series modifiers, the Q500-DC gives you the tools to work anywhere, rain or shine.
Separator
FEATURES
750W tungsten equivalent, 185W draw
IP-24 (Water-Resistant)
Full Dimming
Extended Color Temperature Range (2800-6500K)
High CRI≥93 (3000-5600K)
Battery Options Available
Weighs 11.2 lbs
Flicker Free at any Frame Rate
LCD Display & Built-in DMX Control
Cool to Touch
Custom Travel Case Available
Separator
SPECTRAL DATA

CRI
Measurement
R1
R2
R3
R4
R5
R6
R7
R8
R9
3000K
99
97
91
97
97
95
98
97
88
5600K
93
97
97
91
93
95
94
87
61
CRI
Measurement
R10
R11
R12
R13
R14
R15
CRI**
Ra
CRI**
Extended
TLCI
Results
3000K
86
96
83
98
93
97
96
94
96
5600K
88
90
84
93
99
90
94
90
95
*Values in this table are typical.
**CRI Ra is the averaged result of R1 to R8, CRI Extended is the averaged value of R1 to R15.


Separator
SPECIFICATIONS
Size
L 12″ x W 12.75″ x H 15″ (with Yoke)
305mm X 325mm x 380mm with yoke
L 12″x W 9″ x H 6.75″ without
305mm X 230mm x 172mm without
Weight
Total Weight: 15.8 lbs / 7.2 kg
Body: 11.2 lbs / 5.1kg
Ballast: 3.5 lbs / 1.6 kg
IP Rating
IP-24 Rating (Water-Resistant)
LED
Dense Matrix LED
Thermal Design
Advanced Vapor Cooling
Beam Angle
54° (Without Accessories)
27°-49° (With 5″ Fresnel Lens)
11°-23° (With 8″ Fresnel Lens) Not Included
CCT Range
2800-6500K Continuous Tuning
Hue Control
plus/minus .25 Magenta/Green
CRI
≥93 (3000-5600K)
LED Lifetime
42,000 hrs


Power Consumption
AC power 185W Max / DC power 170 W max Comparable in Output to 750W Tungsten
Input Voltage
AC Power: 100-240 V AC, 50~60Hz, Max 185W
DC Power: 22-50V DC, Max 170W
Input Port
Detachable Power Con Cable
DMX Control
2 XLR ports and 2 RJ45 ports (512 Addresses)
Temperature Range
32-104ºF / 0-40º C (over Temperature Protection)
Mount Style
Baby Stud 5/8" Female (16mm) and
Junior Stud 1-1/8" Male (28mm)
Barndoor Mount Size
Size III
Separator
SHOWCASE
Separator
AWARDS AND REVIEWS
The 2014 Cine Gear Expo Technical Lighting Award
The Fiilex Q500-DC utilizes the same patented Dense Matrix LED technology as the Q500-AC, which won the 2014 Cine Gear Technical Lighting Award for best lighting technology debuted that year. Reviewed by a panel of industry leaders, the powerful LED was chosen for its technical and innovative excellence. Read More


Separator
PHOTOMETRIC DATA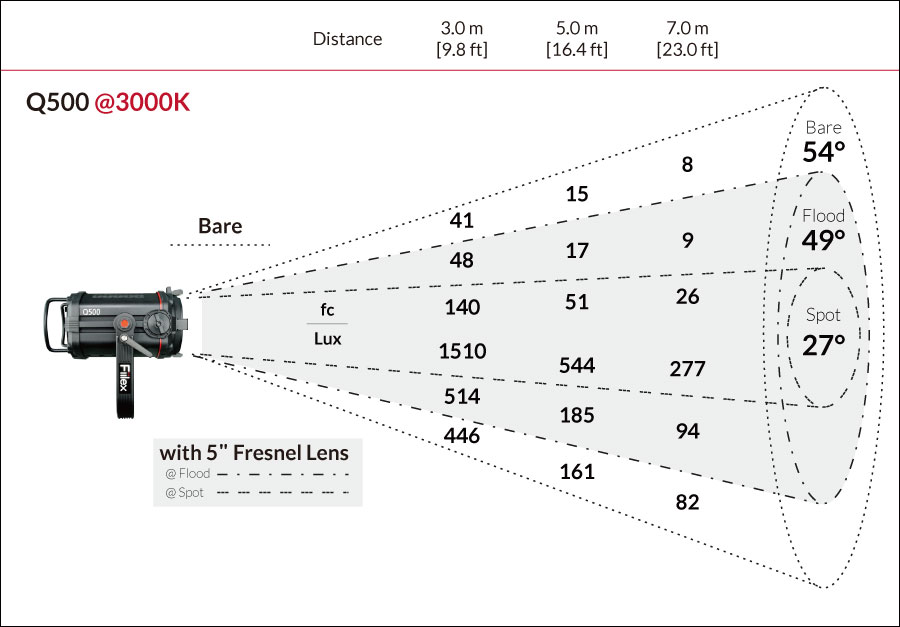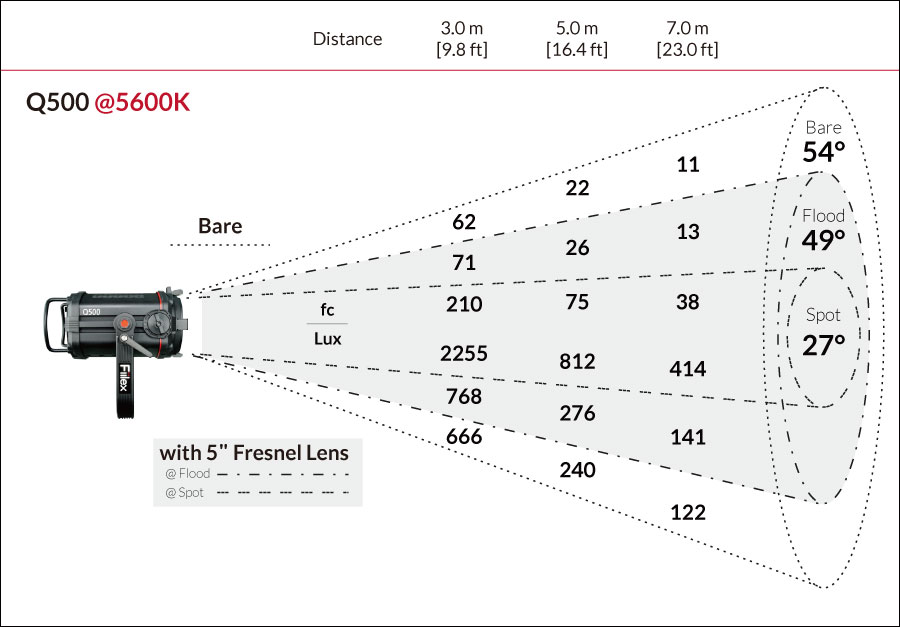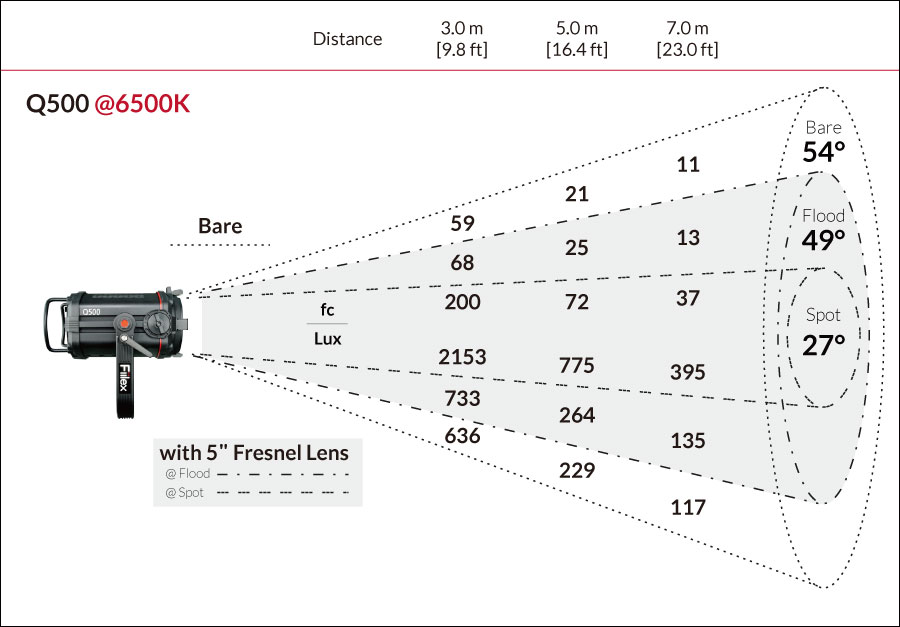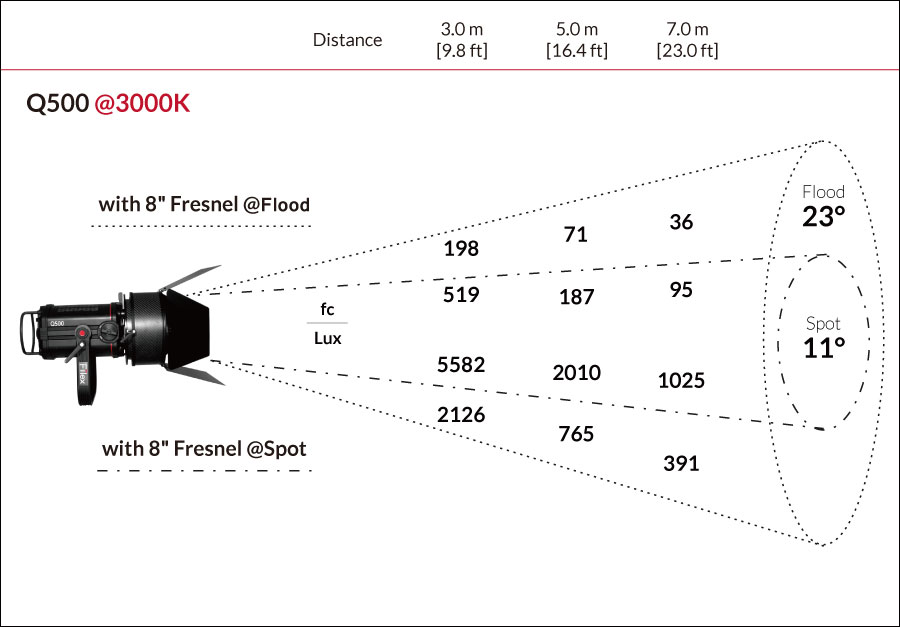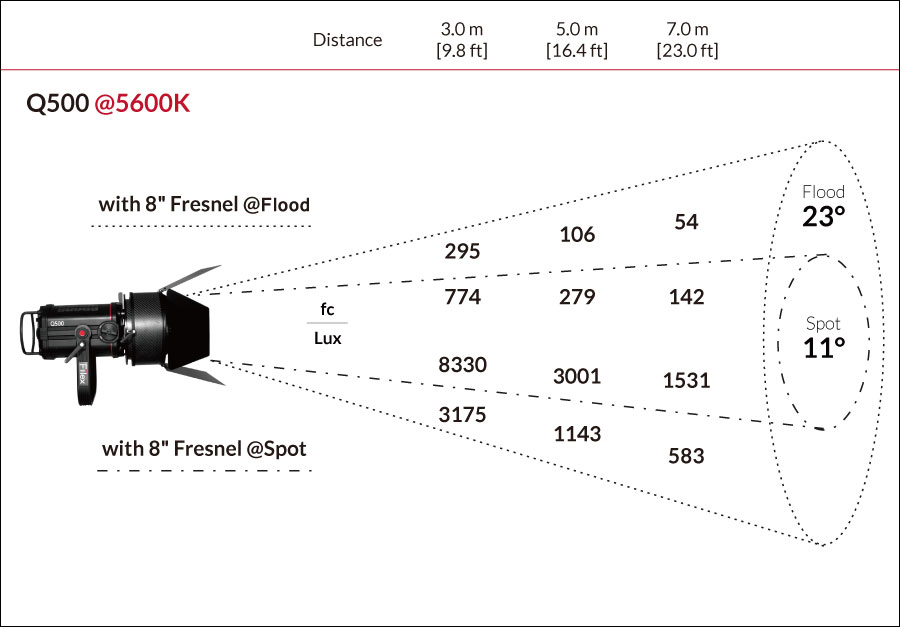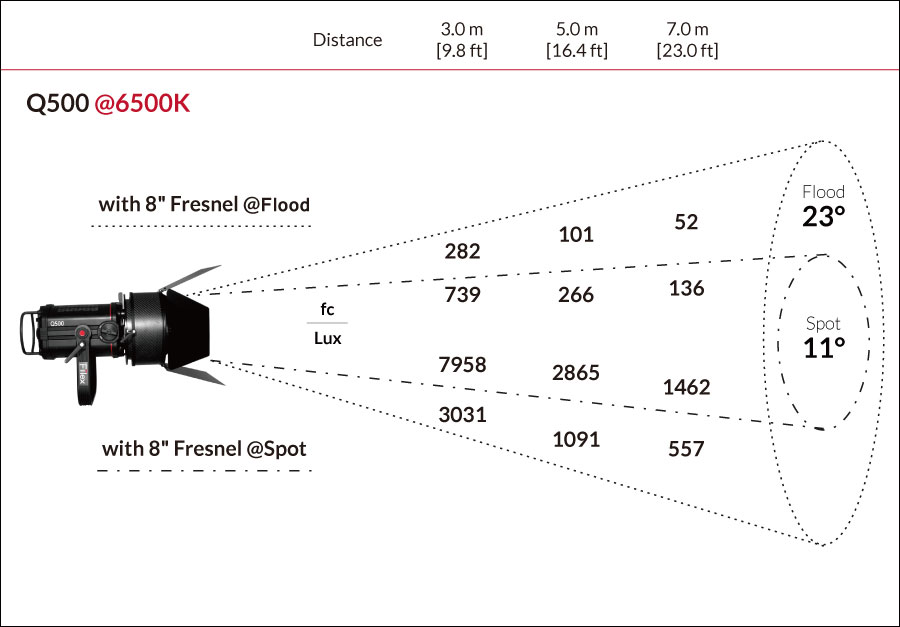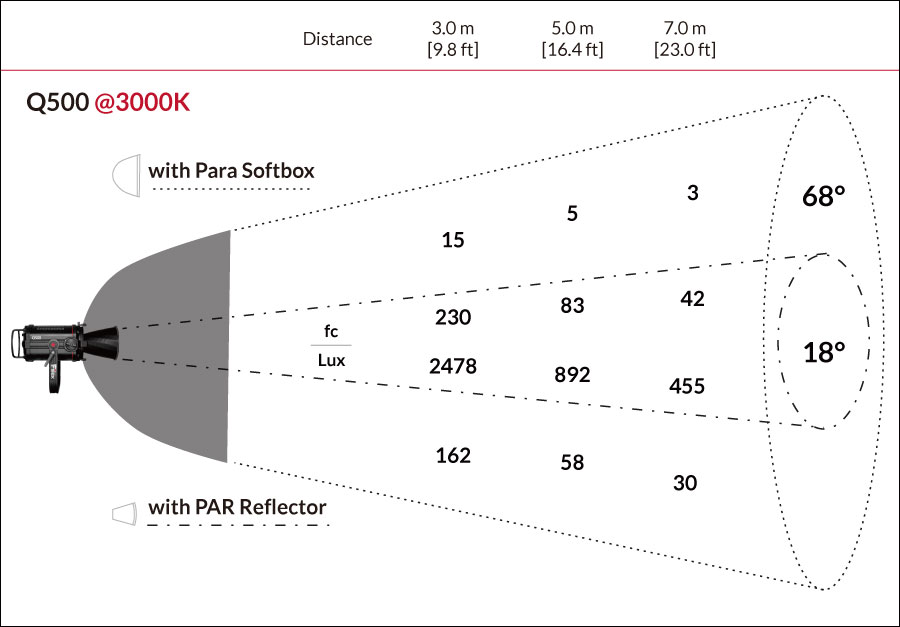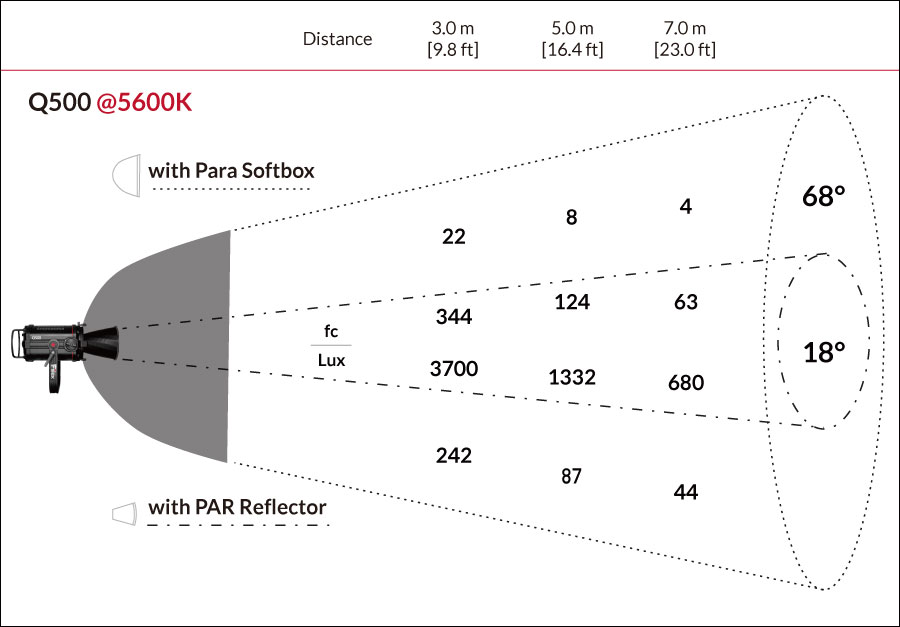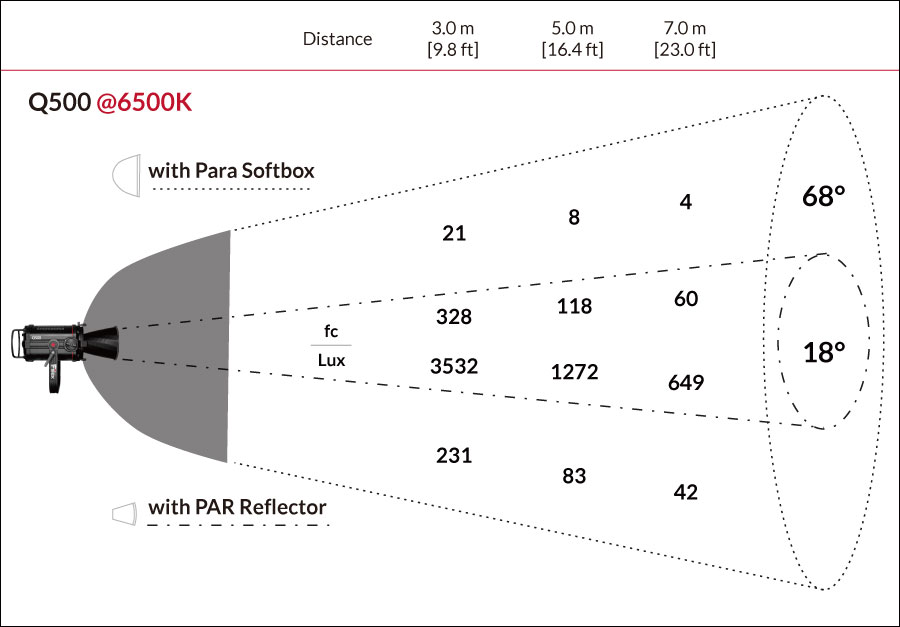 Separator
Items Included
(1) Q500-DC Light Head
(1) Size III Barndoor
(1) 5-Inch Fresnel Lens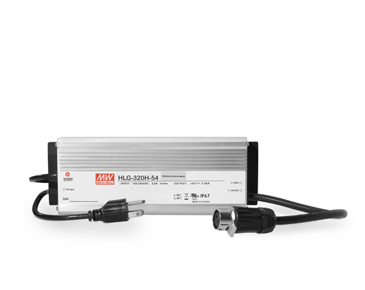 (1) PowerCon Adapter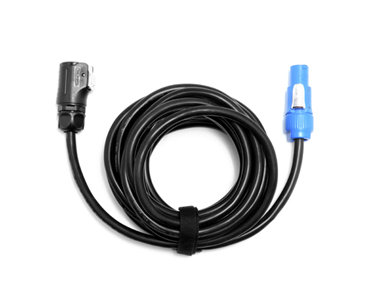 (1) PowerCon Cable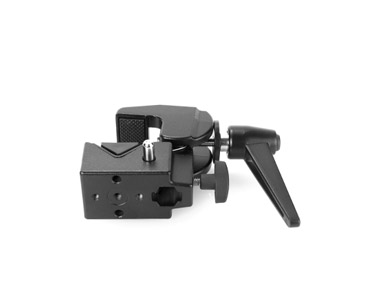 (1) Clamp Mount
(1) Cord Tie
Separator
Compatible Accessories
Separator