Fiilex Lights Rated in the Top Tier in TLCI Color Quality Tests


San Francisco, CA - Aug 10th, 2014 - Fiilex is proud to announce that the P100, P180E, P360 and Q500 all received top ratings in the latest round of TLCI testing released by the Guild of Television Cameramen. All of the Fiilex lights tested easily placed in the top rating tier, meaning the lights reveal accurate color and do not need to be color corrected. All of the lights rated amazingly well at different color temperatures and were some of the highest rated and most consistent lights tested.

Q500
Rated 95 at 6500K.
Rated 95 at 2800K.

P360
Rated 98 at 5600K.
Rated 98 at 3000K.

P180E
Rated 96 at 5600K.
Rated 98 at 3000K.

P100
Rated 94 at 5600K.
Rated 99 at 3000K.
About TLCI
The TLCI (Television Lighting Consistency Index) tests the quality of lights when working within a television / broadcasting context. It was first suggested in the 1970's with early research done by the BBC. In recent times, the EBU (European Broadcasting Union) in co-operation with AMPAS (Academy of Motion Picture Arts and Sciences) has further developed the testing process.
TLCI is the most accurate test of quality for LEDs because it takes into account the medium in which the lights are being used. It is unlike CRI (Color Rendering Index) Which was designed to test how colors would appear under certain lights to the human eye. It is possible for a light to have a high CRI and still require time consuming color correction, not so with the TLCI standard.
TLCI Measurement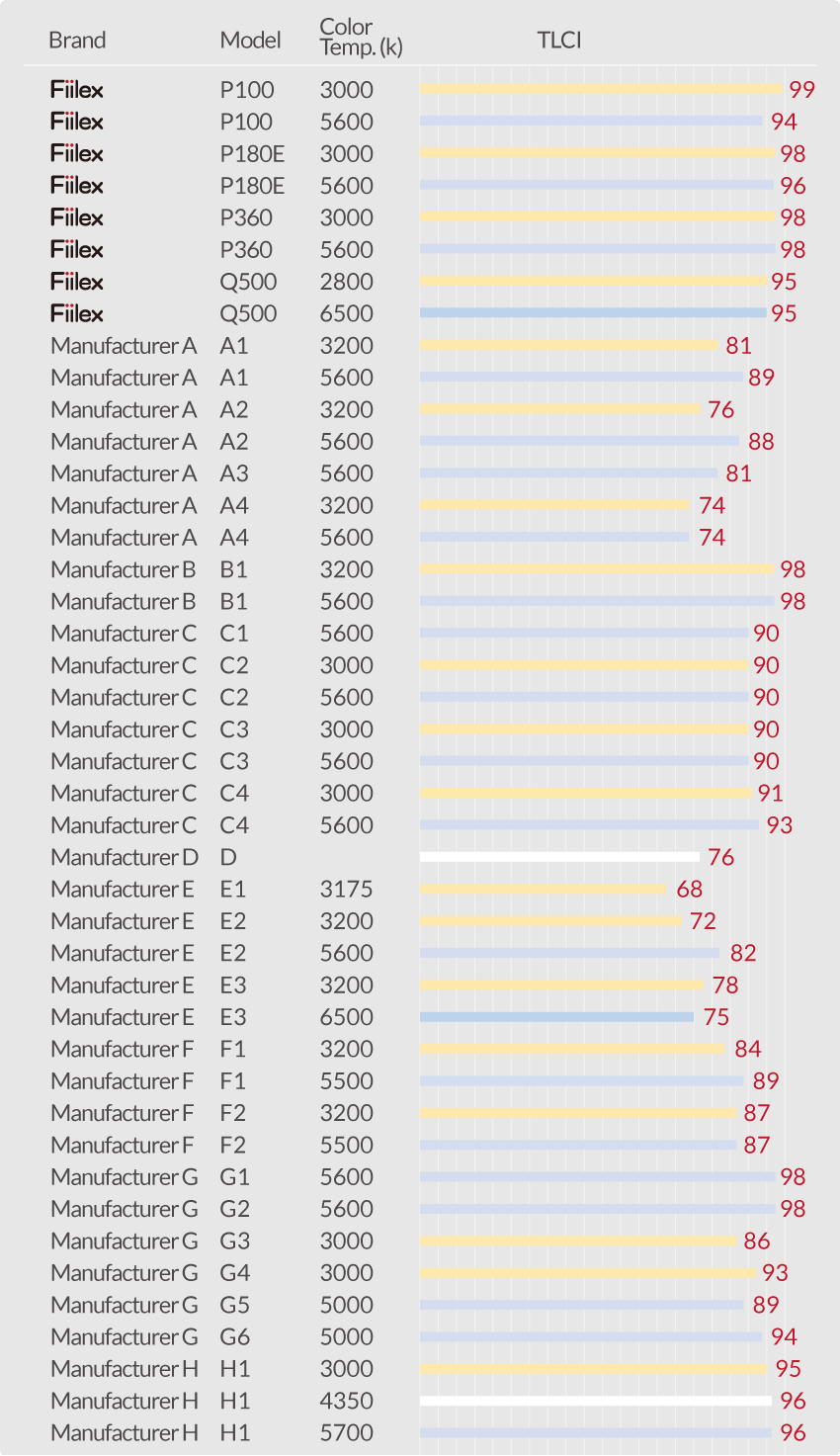 Separator
About Fiilex
Fiilex is a DiCon Lighting Brand. The Fiilex division designs and manufactures high quality LED lighting products for the Image Capture industry. Incorporating patented Dense Matrix LED technology, Fiilex produces portable and powerful specular sources that boast high Color Rendering Index (CRI) and dynamic color tuning capabilities. Since the initial announcement of the brand in January 2013, Fiilex has released 5 revolutionary LED lighting fixtures and a variety of innovative light modifiers. In a very short span, Fiilex has won major contracts in the North American broadcast market and established a wide dealer network around the world. Fiilex is one of the most sought after new lighting brands in the market.

For more information, please visit www.fiilex.com or call (510) 620-5155.

1689 Regatta Blvd,Richmond, CA 94804
(510) 620-5155 TEL
(510) 620-4102 FAX
www.Fiilex.com