P100
P100 "The Brick"

The highly compact P100 is the most versatile solution for someone who is constantly on the move and lighting in unconventional locations. Fully dimmable and color-tunable to match daylight or tungsten, this brilliant LED features a spot-to-flood lens and runs off an integrated Li-ion battery. Easily modifiable, "The Brick" puts out 100W of high CRI (≥92) light that can serve as either key or fill and will translate all your colors precisely. Revolutionize the way you light with the P100's flat form factor - place it on almost any surface, mount it on your camera, use it in a three-point set, or simply hold it in your hand. With no bulbs to break and no cords to plug in, go anywhere knowing that you'll be able to light your shots quickly and beautifully.
Separator
FEATURES
100W tungsten equivalent, 12W draw
Weighs 0.59lbs
Dimmable and Color Tunable Between 3000K to 5600K
High CRI ≥92
Runs on Integrated Li-ion battery or AC power
2 + Hour Battery Life at Maximum Power
Small Form Factor - Place Almost Anywhere
Solid State Technology (No Broken Bulbs)
Compatible with Magnetic Accessories (Use With Accessory Mount)
Separator
SPECTRAL DATA
CRI
Measurement
R1
R2
R3
R4
R5
R6
R7
R8
R9
3000K
97
97
93
96
96
96
98
95
82
5600K
96
98
95
90
94
95
92
90
66
CRI
Measurement
R10
R11
R12
R13
R14
R15
CRI
Ra
CRI
Extended
TLCI
Results
3000K
86
93
78
97
94
95
96
93
96
5600K
89
86
73
97
98
94
94
90
93
*Values in this table are typical.
**CRI Ra is the averaged result of R1 to R8, CRI Extended is the averaged value of R1 to R15.


Separator
SPECIFICATIONS
| | |
| --- | --- |
| Size | 5.8" (Length) x 2.8" (Width) x 2.8" (Height) |
| Weight (Include Yoke) | 0.59 lb / 0.27 kg |
| LED | Dense Matrix LED |
| Thermal Design | Fanless Cooling System |
| CCT Range | 3000-5600K Continuous Tuning |
| CRI | ≥92 |
| Power Consumption | 12W Max. |
| Input | 9-13V DC |
| AC Adaptor | 100-240V AC, 50-60Hz (In) / 12.6V DC , 12W (Out) |
| Battery | Li-ion Rechargeable Battery/11.1V 2600mAh/29Wh |
| Operating Temperature | 0 - 40° C / 32° - 104°F |
Separator
SHOWCASE
Separator
AWARDS AND REVIEWS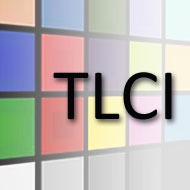 TLCI Light Ratings: Flawless Color
Fiilex LEDs consistently place in the top tier of the Television Lighting Consistency Index (TLCI), meaning they reveal color so accurately that they eliminate the need for color correction. Read More


Separator
PHOTOMETRIC DATA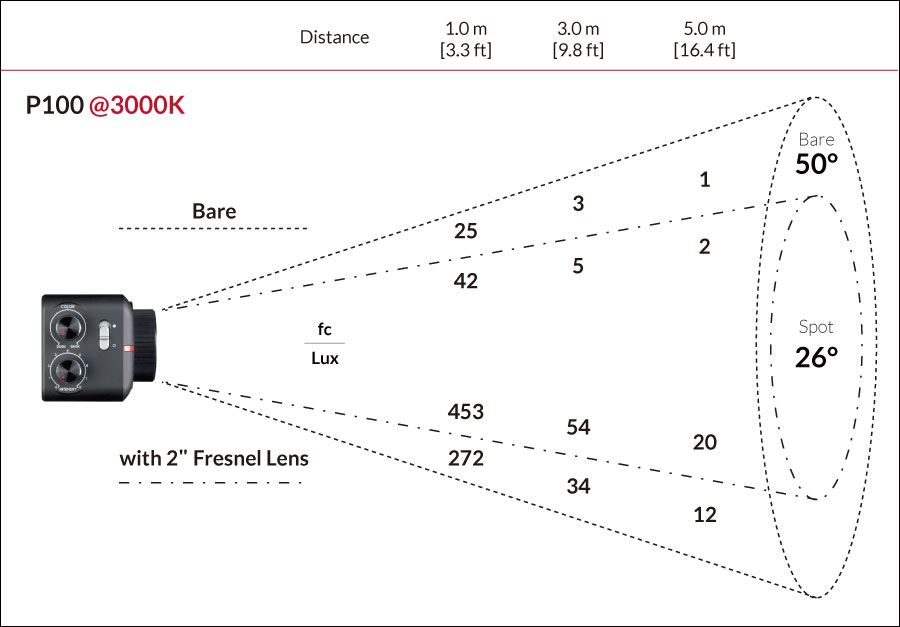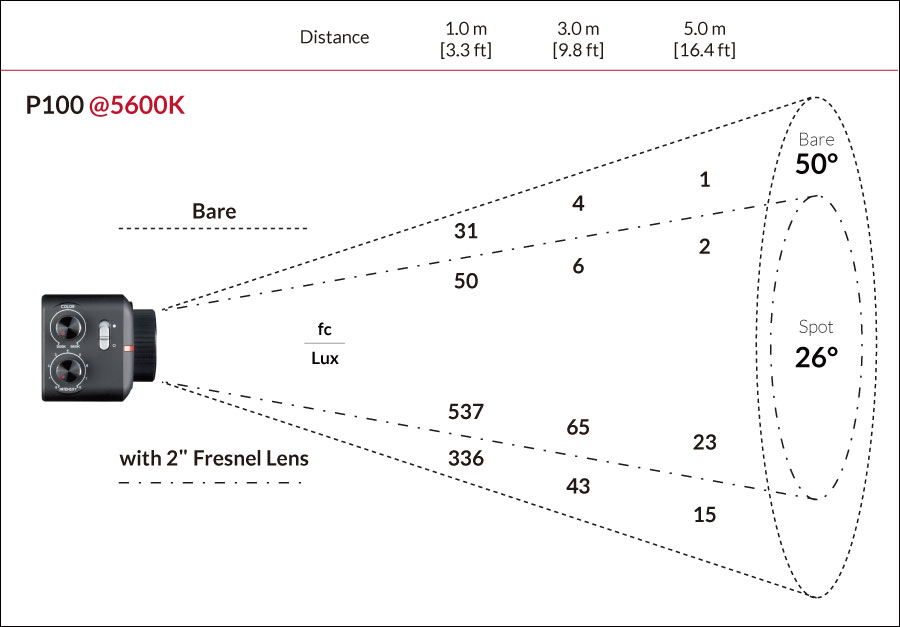 Separator
Items Included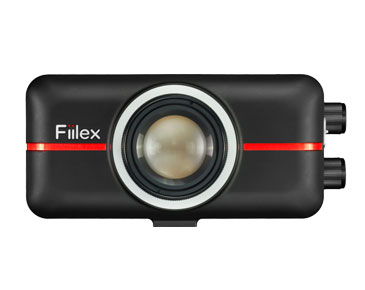 (1x) P100 Light Head
(1x) Rechargeable Battery
(1x) 15W - AC/DC Power Adapter (Wall Charger)
(1x) Cold Shoe w/ Mini Ball Head
Separator
Compatible Accessories
Separator
Kits Containing P100