Samy's Camera Dealer Announcement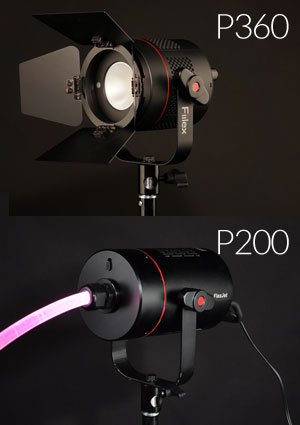 Fiilex is proud to announce that Samy's Camera has been chosen to be among the first Fiilex dealers in the United States. Fiilex is the newest brand from DiCon Lighting and has just launched it's website at the beginning of 2013. Fiilex announced the P360, an innovative compact light that is color tunable from 3000K to 5600K; and the P200 FlexJet, a fiber optic illuminator has also sparked the creative minds in the industry with it's unique accessories and variety of colors.

Samy's is excited to be accepting orders on the P360, the P200 and the Fiilex Light Kits. The single units of the P200 and P360 have just arrived at the Samy's main headquarters. The Fiilex P360 is available for $695, the P200 FlexJet for $795. Two Light Kits are available for preorder. The 3 P360 Light Kit runs $2249 and includes a hard travel case, 3 light stands, 1 barndoors, a 15 inch compact softbox and speedring. The P200 / P360 Light Kit runs $2449, which includes 1 P200 and 2 P360 units, a hard travel case, 3 light stands, 2 barndoors, 1 fiber optic adapter, and 5 feet of fiber optic glow.

Samy's Camera has had the chance to have a hands on experience with the Fiilex P360 and P200 FlexJet. "The quality of light coming from the P360 was cinematic in look and decidedly un-LED. Because of the super cluster technology [Dense Matrix Technology] and innovative design Fiilex uses, you have the look of a fresnel and none of the harshness or multi shadow staging you see in a panel or brick style multi source LED light." says Jim Chaconas from Samy's pro sales division. "They have a great look, feel, fit and finish. Small and compact, they are nicely styled and professional in appearance."

About Samy's Camera
For over 35 years, Samy's Camera has been the leader in sales of high quality imaging products and the ultimate resource for the professional and amateur photographer. Knowledgeable sales staff, exceptional customer service, and an impressive up-to-date inventory are the reasons that Samy's Camera enjoys a loyal following. Samy founded Samy's Camera in 1976 with a vision for a full service store. This vision is exemplified in all of our locations including our flagship store on Fairfax Boulevard, with three floors stocked with the latest and most exciting selection of photographic, video and electronics equipment available.
Separator
About DiCon Lighting
Using the proprietary Dense Matrix LED platform and a broad range of technical expertise in material science, optics, thermal system, electronics, and product design, DiCon Lighting creates and manufactures a variety of innovative LED luminaries for architecture, entertainment, horticutlure, aquaruim, image capture, and bio/med industries. Operated under the parent company DiCon Fiberoptics, Inc., it has 27 years of proud recognition and excellence in the photonic industry.

For more information on DiCon Lighting, please visit www.DiConlighting.com.
For more information on DiCon Fiberoptics, Inc., please visit www.DiConFiberoptics.com.

1689 Regatta Blvd,Richmond, CA 94804
(510) 620-5155 TEL
(510) 620-4102 FAX
www.Fiilex.com